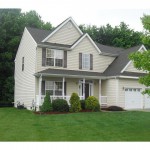 Warren Park, Pennsville, New Jersey, 67 Single Family Lots: The owner of this partially sub-divided property could not find a New Jersey builder interested in completing the subdivision in an area where there was no measurable absorption of new construction. The owner listed the property with LD. LD found a Pennsylvania-based builder who buys the land and actually sells it faster than the owner can obtain final subdivision. Sale was completed in phases to help in the approval process and seller's...
Latest Conservation Project: LAND DEVELOPMENT GROUP FACILITATES PROTECTION OF HABITAT FOR ENDANGERED SPECIES The Berkshire Hathaway HomeServices Fox & Roach Land Development Division, under the guidance of Edward Ritti, recently facilitated the sale of a 168-acre tract of land in Berks County to Natural Lands Trust (NLT) for conservation. This land, now called Green Hills Preserve provides crucial habitat for wildlife including a species considered to be critically endangered, the highest risk category assigned for wild species.  The developer's original vision of...
Land Development represents land owners with "best in class" service, converting their property to cash and meeting their goals. Our Commitment to Land Owners: Achieve the highest price from a responsible buyer Eliminate uncertainties (financial and otherwise) that may result in a failed sale Convert land to cash as soon as possible Provide a comprehensive and seamless transaction for the Land Owner Represent the Land Owner's Interest throughout the entire process Our Process: Research external development factors which impact the property Determine the real market property value Direct Market to...
Do you or your clients own properties that need to be sold? Do you own a "special" property which requires creative marketing? Are you looking for the quickest turnaround to sell that property? Let us convert your real estate assets into cash …fast! A Real Estate Auction offers you the quickest and most effective method of exposing your property to qualified, interested buyers with minimal effort on your part. Competitive bidding is a result of our large pool of National Buyers. Your property will...
Land Development offers comprehensive property information allowing builders to make quick, informed decisions regarding the purchase. Our Commitment to Builders: Give builders the opportunity to buy more land Provide the data and expertise builders need to make a confident and informed decision Shorten their due diligence time Simplify the negotiation process Supply comparable product data Level the playing field Our Process: Research external development factors which impact the property Determine the real market property value Direct market to qualified builders Eliminate the middleman Manage the process to settlement ...